Green traditional ceramic of Morocco
Ceramic is a main activity in the Draa Valley, it goes back to very old times and reveals the imprint of the artisanal culture and influences including that of Fez and Marrakech.
The raw material consists essentially of clay which remains a secret of color, Tamegroute pottery is the only Moroccan pottery to produce green enamel inherited from the tradition of Fez. However, the green enamel of Tamegroute is characterized by its heterogeneous color.
The Tamegroute pottery is one of the oldest in the kingdom. It is a source of life for the population.
Pottery is an inheritance handed down from father to son.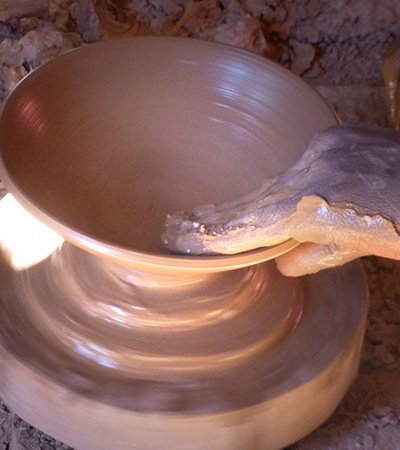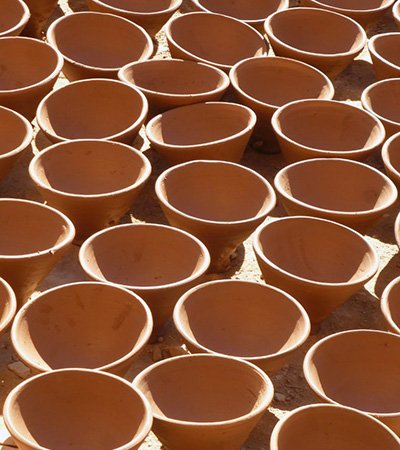 The characteristics of Tamegroute pottery
The pottery of Tamegroute is celebrated in many forms but with a unique color and enamel. Green, a shade created especially by local potters thanks to several components (Minerals and natural).
It is a typical rural pottery made in an arid and desert environment. The potters work step by step from the raw material that is the clay mixed with water that come from the Draa Valley, until the manufacture of objects.
The way and the secret of the manufacture of the artisanal product of Tamegroute :
The production begins by heating the oven for hours thanks to the remains of the trunks of the palm trees, then we start the preparation of the dough which is brought from the depths of the gardens, then a worker is responsible for crushing it in a pit until that it becomes creamy, leave it at room temperature overnight and cover it with a plastic to ferment it. This operation facilitates the work and manufacture of various objects there after.
The object dries for 3 to 4 days before it takes the famous shade of Tamegroute composed of kohl, copper, a dry rock plus a barley soup, all these ingredients are crushed and then kneaded, then it takes again its corner for to dry again for 3 days in the sun, it goes to the oven for a second time and here the object is ready to be used.